Header Image
Kuva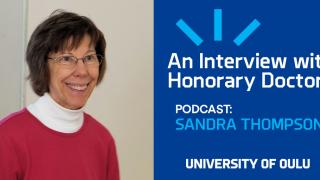 The second Interview with Honorary Doctor takes a glimpse at the life of Sandra Thompson
Body
In the second episode of An Interview with Honorary Doctor podcast, Simo Kekäläinen interviews Professor Sandra Thompson, who is an internationally recognized pioneer in interactional linguistics and an expert in functional linguistics. Sandra's work has regenerated the field of linguistics both theoretically and methodologically. For example, Sandra has documented many endangered and already extinct languages such as Wappo that was spoken in Northern San Francisco until 1990.
Listen the episode here: https://open.spotify.com/episode/0K6e5oyOCb9RjZP0aOFauK
 –I was so happy when our first PHD students from Oulu Applied to our program. -- As you well know since then the department [of English Philology in Oulu] has become one of the centers on interactional linguistics. I feel the connection between the University of Oulu and UC Santa Barbara has been very close because of these wonderful people, Thompson says.
An Interview with Honorary Doctors is a new podcast series, in which we will get to know the honorary doctors. The conversations will cover interesting stories about the life and achievements of the guests and their connections to the University of Oulu.