Header Image
Kuva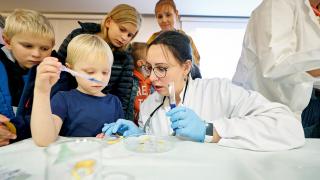 Researchers' Night nominated for the Best of the North competition!
Body
University of Oulu event Researchers´ Night is nominated for the best event in the North in 2019! You can influence the choice by voting.
We are nominated in two categories: the Cultural Event of the Year and the Favorite Event of the Year.
The finalists in each category will be determined by the preliminary panel, from which the winners will be selected as half on the basis of public votes and half on the basis of the points given by the expert panel. It is worth visiting and giving a vote to the Researchers' Night, which is the only event from the University of Oulu in the competition.
The competition will be finalized and the prizes will be awarded at the Best of the North Gala in Lasaret on 26 March 2020. The competition is organised by BusinessOulu and its partners.
The voting time is until 23 February. Give your vote here https://sivustot.kaleva.fi/pohjoisenparhaat/
To follow:
https://www.facebook.com/pohjoisenparhaat/
Go to Yammer