Header Image
Kuva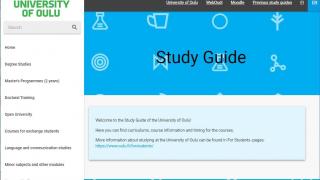 Peppi Study Guide and timetable 2020-2021 published
Body
The University of Oulu starts using Peppi system in stages.  In the first stage during 2020 The University started to use Peppi planning tool and study guide. 
Vice Rector for Education has confirmed the timetable for the academic year 2020-2021 and it has now been published. The courses and their registration are still in Oodi. Teaching times and locations are in Peppi's Resource Planning and Reservation tool Ressu and you can see them from the Study Guide.
Teaching times that have no classroom reserved are still missing from the Study guide, but will be added there during August. During August, Outlook integration will be switched on in Peppi, which will transfer the teaching schedule to the calendar of the teacher who is attached to that booking. There will be more info on this during implementation.
Tuudo will operate as before, including, for example, course registration and the timetable. The data will be combined to Tuudo during the summer.
First instructions on making changes to the timetable will be available soon for persons responsible for the changes, instructions will be updated as the implementation progresses.
University's new study guide for academic year 2020-2021 is now published at https://opas.peppi.oulu.fi
The study guide includes information on degrees, curriculums, courses and course timetables.
Timetables are as a one big list on the Study Guide, but in Peppi's Ressu and Outlook, there is also group name visible on the reservations. In Tuudo, the timetables are split under the course groups.
If you have questions on information in the study guide, please contact the respective study field's Academic Affairs Service Team https://www.oulu.fi/forstudents/faculty-study-affairs
Changes to teaching times and places during ongoing academic year are done by Faculty Study Affairs Service Team starting from August https://patio.oulu.fi/en/services-and-instructions/education-services/curriculum-planning/timetable-planning.
What is done and where 2020-21
WebOodi
Peppi
Course registration
x
 
Study Guide
 
x
Curriculums and curriculum planning
 
x
Teaching times and places
 
x
Study plans
x
 
Grades and study points
x
 
Transcript of records
x
 
More information on how to use Tuudo for registration and timetable at the beginning of the semester.
More information on where teachers see their own timetable at the beginning of the semester.