Header Image
Kuva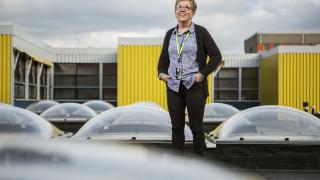 Coronavirus restrictions to be partially lifted
Body
The University of Oulu will partially lift coronavirus restrictions from Thursday 14 May 2020. From that date, work on university premises will no longer require the separate permit procedure that was in use during the emergency. It is recommended, however, that tasks or parts of tasks that can easily be performed as remote work, should continue to be done that way.
Regulations concerning remote work will be renewed after summer.
The campus doors will remain locked. When entering, a personal ID (electronic key/ID card) must be used to open the door. Possibilities to use the student 24/7 card in some cases are being examined.
Do not come to work if you suspect that you have an illness caused by coronavirus (exposure and suitable symptoms). In all situations, the distance between people must be at least two (2) metres. Everyone must ensure regular and careful hand hygiene.
Visitors can be received if particular caution is observed and safety and social distancing taken into account. This also concerns, for example, thesis guidance discussions on campus.  
In order to prevent infections, observe the given guidelines when moving around on different forms of transport. The same guidelines hold true for being in traffic as for being at home or at work.
Study will continue to be organised chiefly as remote teaching.
The University of Oulu library lending service will restart from 1 June 2020, but reading rooms will remain closed and nobody will be allowed to linger on the premises. Read more: https://www.oulu.fi/library 
Work-related travel within Finland will only be possible if it is unavoidable. International travel is not possible at present. 
Small events (less than 50 persons) can be organised from 1 June according to guidelines set out by the government. Large events (more than 50 persons) cannot be organised until further notice. Events planned for the autumn will be decided upon on a case-by-case basis.  
Guidelines aimed at staff have been gathered on the Patio coronavirus info page: https://patio.oulu.fi/en/university/topical-themes/coronavirus. There you will find more detailed information on, for example, working in university facilities, the organisation of teaching and recruitment during corona pandemic.
In addition, information related to coronavirus has been gathered on the public website at www.oulu.fi/university/coronavirus. This link can also be found on the front page of the website. The link is useful for students and external stakeholders.
For more information, please contact: HR@oulu.fi