Header Image
Kuva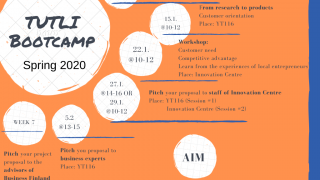 Body
"TUTLI bootcamp" is the series of events arranged by Innovation Centre (see the picture). Its aim is to develop new business from research results and get a good application to TUTLI (new business from research) funding of Business Finland.
22nd January at 10-12 am: TUTLI workshop
market potential
customer need
competitive advantage of your own project proposal
The workshop is lead by the experts of Innovation Centre
The event is especially for those researcher who aim to apply TUTLI funding in 2020. But is also open to others who are interested in commercialization of research.
Registration: maarit.jokela@oulu.fi