Header Image
Kuva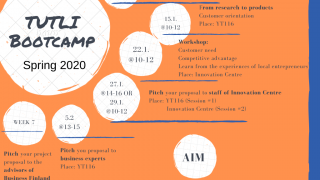 From Research to Business
Body
"TUTLI bootcamp" is the series of events arranged by Innovation Centre (see the picture). Its aim is to develop new business from research results and get a good application to TUTLI (new business from research) funding of Business Finland.
Innovation Centre arranges at 15th January at 10-12 am: A training "From research to Business". 
Content:
how research results can be commercialized?
customer centered marketing
service design
learn from founders stories
Speakers:
The event is especially for those researchers who aim to apply TUTLI funding in 2020. But is also open to others who are interested in commercialization of research.
Registration: maarit.jokela@oulu.fi