Header Image
Kuva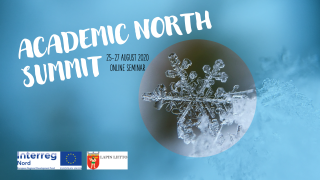 Body
WHAT'S UP ON COMMON NORTHERN NORDIC LABOR MARKET?​

For 3 days we will gather online for lively discussions on work-related cross-border mobility and share news, experiences, needs. ​

C'MON AND JOIN!​
All you need is a computer, Internet connection and Zoom application.​
Participation to the event is completely free but registration is obligatory to gain password to the online event.

The program includes interesting and inspiring speeches from top scholars, officials and decision makers.
Confirmed speakers include:
Paula Lehtomäki, Secretary General at Nordic Council of Ministers.
Anna Hallberg, Swedish Minister for Foreign Trade and Nordic Affairs.
Thomas Blomqvist, Finnish Minister for Nordic Cooperation and Equality.
Iiris Mäntyranta, Program leader of Interreg Nord.
Lena Abrahamsson, Chairman of the board of the Faculty of science and technology, Dean of the Faculty of engineering at Luleå University of Technology.
Christina Mörtberg, Professor Emerita at Department of Informatics at Linnaeus University.
Eeva-Kaisa Prokkola, Professor in Human Geography at University of Oulu.
Charlotta Collén, Strategy Director at University of Oulu.
Carolien Vandermissen, Senior Advisor EURES and NAV Troms and Finnmark.
Stig Falk-Petersen, Senior researcher at Akvaplan-Niva.
Never has it been so easy to join a seminar of this high quality!​
More information on the event and registration can be found HERE. 
​Learn more on Academic North -project HERE.
Information box
Info text
Academic North -project has been a joint endeavor of Luleå University of Technology, University of Tromsø and University of Oulu. Objectives of the project were to promote the proficiency, competitiveness and well-being of the northern parts of the Nordic countries by furthering academic mobility and employment in a socially sustainable way.
The project is coming to its end in September 2020 and therefore it is time to gather for the final seminar to hear about the project's results and recommendations for the future. Only this time the gathering will happen entirely virtually.