Header Image
Kuva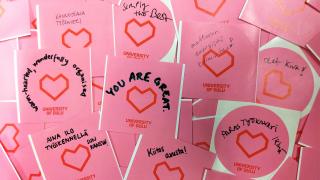 Praise a pal on Valentine's Day!
Body
To celebrate Valentine's Day on Friday, February 14 we want to encourage everyone to praise their colleagues. Show your appreciation by writing a compliment into a sticker, Yammer or social media.
On Valentine's Day we will hand out stickers and Pätkis chocolate bars, which you can give to a colleague that made you happy. The stickers and chocolate will be available at the office workouts organized in Tellus Stage (both Linnanmaa & Kontinkangas). Take a friend with you and come freshen yourself! Each workout takes about 5­–10 minutes. The office workouts start at:
12.10 o'clock
12.40 o'clock
13.10 o'clock
13.40 o'clock
The compliment doesn't have to be major in order to cheer both of you up. Think of who is easy to work with, who has helped you with your problems, who has succeeded in their project or who tells funny jokes at coffee breaks.
The stickers will also be available at office supply storerooms on Friday. The storerooms are located in
Kontinkangas: 106A
Linnanmaa: 132, FY1047 and SÄ101
You can find the rooms from Oulu Campus Navigator by searching office supplies
If the stickers have run out or are not available at your workplace, you can as well write your compliment on your own card or post it -note. It's the thought that counts!
You can also praise your colleague on social media using the hashtags #PraiseAPal or #KehuKaveria, and of course #UniOulu. You can also use the Praise function on Yammer:
sign in Yammer (one of the Office 365 products)
click All Company
choose Praise from the top bottom of the text bar
tag your colleague at "Who do you want to praise?"
Go to Yammer